Cat Koola
Uh Huh, You Know What It is
Black and yellow, black and yellow, black and yellow, black and yellow.
R E C A P Everywhere we mosh, we mosh it big (i.e., Spikeball on the Esplanade). Turns out, we were mediocre at best in reacting to the ricochets off the roundnet. Rather than serve, bump, set, and spike, we introduced a whole new sequence of taps and twirls and tweaking of the rules. As you can imagine, mediocrity is fatiguing and we piled onto the single picnic blanket to bask in the setting sun while sipping on Capri Suns.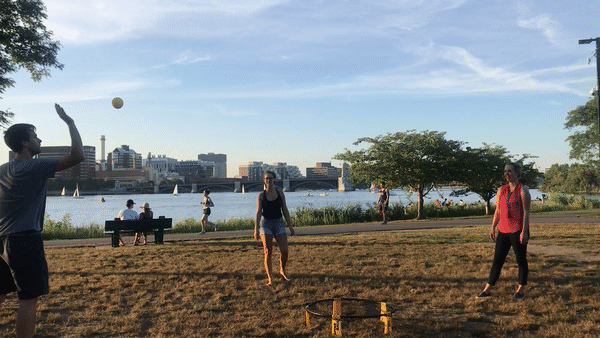 Aspire, inspire, perspire. U P N E X T What: Illuminate the Harbor Fireworks | Light Up For What Where: Christopher Columbus Waterfront Park (88 Sleeper Street, Boston, MA) When: Thursday, August 29th, 7:00-9:00p Note: Admission is FREE. Meet at the Greenway Carousel at 7p and we'll walk over to the park for lawn games and live music by Them Fantasies (Berklee College of Music Band). Fireworks start at 8:30p. If you're planning to join later, text/call me (979.450.9008) to find us!